Ipswich Electrifiers Speakers' Club is part of Toastmasters International. If you're looking to develop public speaking skills in and around Ipswich do visit us to find out more.
An evening at the club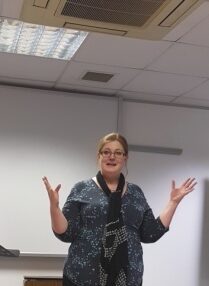 What is the club about?
Ipswich Electrifiers Speakers' Club is for people who want to improve their speaking and leadership skills. Whether you want to speak for business or as part of your job, for leisure or social occasions, our supportive and friendly atmosphere encourages you to "give it a try". Read more about benefits of membership.
Where are you and when do you meet?
We meet every other Thursday evening. Our normal meeting place is The Outlook, Fox's Marina Ipswich but for now our meetings are on zoom. Find out more about our meetings here.
Who are the members?
We have a diverse membership and all over 18s are welcome, find out more about our members.
Join our mailing list
From time to time the club holds guest nights and special events, join our mailing list if you would like to be notified
How do I find out more?
Find out what happens in a typical meeting, come and spend an evening with us, without obligation or charge. You won't have to give a speech, and you can join in as much or as little as you wish, contact us for more information and location details.
Our next meeting dates are
Thursday 11th February
Thursday 25th February
Already made your mind up?
If you are already considering joining we believe that membership of Ipswich Electrifiers is great value for money
You can download an application form below and bring it along to our meeting