Meetings are held every other Thursday throughout the year.
We meet at Castle Hill Community Centre, Highfield Rd, Ipswich, Suffolk, IP1 6DG
We welcome guests to our club meetings, free of charge. You will see our meeting in action and be able to chat to our members.
Our meetings are held on alternate Thursday evenings from 7:15pm to 9:00pm,

If you would like to attend a meeting please contact us for the link or Click here to join our WhatsApp group to receive notifications about Ipswich Electrifiers meetings. Guests are very welcome to join any of our meetings, either via Zoom or in person.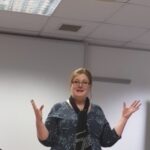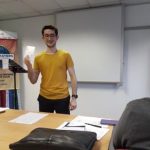 Ipswich Electrifiers Speakers' Club is for people who want to improve their speaking and leadership skills. Whether you want to speak for business or as part of your job, for leisure or social occasions, our supportive and friendly atmosphere encourages you to "give it a try".
Our standard meetings follow a common structure with each of these sections in order. Click on each section to find out more

The success of any meeting relies on certain roles being performed and our meetings are no different. Each meeting there will be one of our members in each of the following roles. Click on each role name to find out more